Additive Manufacturing: The Atelier DEMGY 3D
Reinventing the way of designing and producing functional parts in small and medium series

DEMGY has taken up the issue of 3D additive manufacturing, an essential tool for the industry and the management of complex and innovative projects, essential contribution in the improvement of technologies, materials, and development times.
Additive manufacturing, integrated in serial production mode, is the new industrial revolution. This is the set of processes for making, layer by layer or adding material, a physical object from a digital object. It allows to reinvent and especially to accelerate the industrial process, from design to manufacturing (production of functional parts, high quality, up to 10 times faster than in conventional mode).
The benefits of additive manufacturing are numerous:
Time saving and time-to-market acceleration
A decrease in prototyping and production costs in small and medium series
Facilitated manufacture of complex shapes and directly assembled in print output
Infinite customization of any product
A production of parts made according to our traditional quality standards, functional, of an extreme dimensional precision and having optimal mechanical properties.
3D additive manufacturing for mass production is a focus to exceed our customers expectations
DEMGY has always worked in a continuous stream of innovations. In 1995, the Group acquired the first Stratasys machine for the manufacture of 3D prototypes. In this context, the Group is in the process of creating today a complete "Atelier DEMGY 3D" for additive production-oriented manufacturing in mass production.
3D printing and high performance
This investment represents more than €1.5 million. In the near future, other machines will complete the Atelier DEMGY 3D, in order to meet all the needs of our customers in terms of materials and functionality.
Our HP Jet Fusion 4200 machine is in operation and allows 3D additive manufacturing in series based on polyamide 11 Rilsan®, made by Arkema from sustainable castor oil. The Rilsan® 11 polyamide powders are a 100% bio sourced high-performance polyamide.
Rilsan® Fine Polyamide Powder Parts offer superior mechanical properties while limiting weight to polyamide 12, and excellent shock resistance and superior ductility and elasticity characteristics.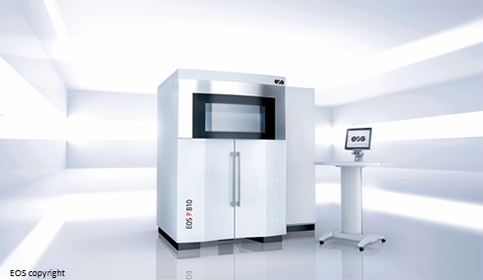 DEMGY is also THE first European manufacturer to equip itself with the EOS P 810 laser sintering machine for EOS HT-23 material (based on Kepstan® PEKK, Extreme Polymer from Arkema, reinforced with Carbon Fibers).
Indeed, the DEMGY 3D Workshop welcomes the EOS P 810 machine to produce functional parts and components for delivery worldwide, in EOS HT-23 parts, an EOS powder made from Kepstan® PEKK, the extreme polymer supplied by Arkema, reinforced with carbon fibers.
EOS P 810 is the first laser sintering solution for mass production of functional parts demanding high temperature PEKK polymer functional parts.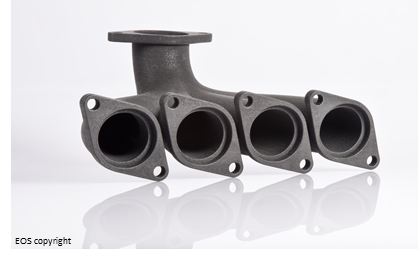 With a chamber size of 700 x 380 x 380 mm, EOS P 810 allows fast and economical production of high-performance techno polymer parts directly from CAD data without the need for tooling.
EOS HT-23 parts offer high strength at low weight and the ability to withstand temperatures well above 200°C.
All parts can also be metallized to provide electrical continuity or serve as electromagnetic shielding, technologies that are mastered and implemented in-house by the DEMGY.
Prototyping and tools of the future
These new technologies are perfectly aligned with DEMGY focus on providing solutions for lighter parts and metal substitution.
Submit your projects early in the design phase to get the most from additive manufacturing
We put at your disposal on our Saint-Aubin-Sur-Gaillon Campus, a true Atelier DEMGY 3D for your needs in additive manufacturing.
Our design office will find you the optimal technical solution, accessible in price and reproducible in series with either an option in eco-equipment or high performance equipment.
Yes, additive manufacturing will also allow you to access the materials of the future.
We will provide you with a prototype and a sampling to prepare the production phase in the best conditions.