Our teams are experts in the transformation and machining of high performance plastics. We master various innovative processes including PCTFE/PTFCE extrusion. Find here all the information related to this process that we master.

DEMGY: an expert in PCTFE/PTFCE extrusion
PCTFE/PTFCE has excellent overall performance including outstanding resistance to cryogenic temperatures. At DEMGY, we are experts in the transformation of PCTFE/PTFCE by compression molding and extrusion. Thanks to PCTFE/PTFCE extrusion, we are able to process this material continuously. The homogeneity of the process allows us to produce longer bars than the compression molding process. Typically, we produce bars of 1 to 2 meters in length. We also produce extruded PCTFE/PTFCE bars up to 3 meters in length as a custom order. The bars we offer are generally between 7 and 20 mm in diameter.
We use the extrusion process for high volume production of components for example. Extruded PCTFE allows, for example, the manufacture of complex components that require gas impermeability. This extrusion process is typically used to manufacture seals.
DEMGY: a specialist in the machining and transformation of plastics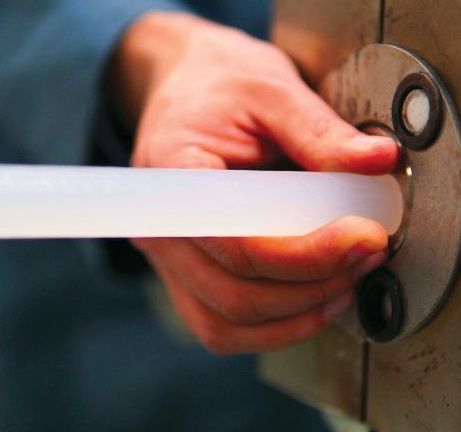 Specialists in the transformation of high performance plastics, we produce components adapted to extreme conditions of use: high temperatures, cryogenic temperatures, exposure to corrosive chemicals or explosive gases. We have developed a real expertise in the transformation of polymers such as PFA, ETFE, FEP and PCTFE. We also machine and process high performance polymers such as PEEK and Polyimide. Depending on your needs, we can manufacture prototypes or produce components in large quantities.
Whatever the high-performance plastics to be machined and transformed, our experts master all the techniques used today. Discover also in this same category of process our know-how in the practice of compression molding, milling and plastic turning.