DEMGY's experts master all the techniques of transformation and machining of high performance plastics. Among other processes, we offer you compression molding. Discover here the details of this innovative technical process.

Compression molding: a complex and controlled process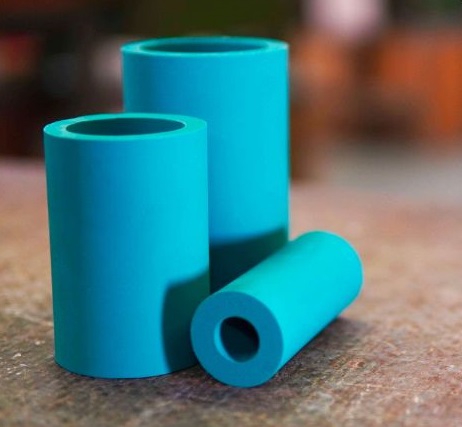 Our company manufactures your high-performance plastic blanks using the compression molding process. This process allows us to shape compressed and heated plastic materials, particularly for the manufacture of your semi-finished products such as plates, tubes and bars.
In addition to plates and bars, we can also compression mold specific shapes and materials. In addition, DEMGY has a large number of moulds, including tube models with a diameter of up to 500mm. More economical than solid bars, these tubes allow us to save material, especially when producing large joints. Many customers have been able to realize significant savings by machining from tube instead of bar stock.
Depending on your needs, we can complete compression molding of low temperature resistant polymers such as PCTFE/PTFCE and FEP or we can offer you high temperature resistant materials such as VESPEL. In all cases, whatever the specified high performance plastic material, we master all processing techniques.
DEMGY: an expert in the machining and transformation of plastics
Our company is a major player in the processing and machining of high-performance plastic parts. Depending on your requirements, we are able to create prototypes and produce parts in large quantities. At DEMGY, we only work with materials designed to withstand the most extreme conditions, including temperature and chemical exposure. To get an idea of what DEMGY can do, check out our other processes, including plastic turning, plastic milling and PCTFE/PTFCE extrusion.