DEMGY Deva, originally established in 2003, has been part of the Group since 2020. Our three production lines specialize in surface treatment--mainly in chromium plating for the automotive sector.
DEMGY Deva started as a provider of painting operations, adding zinc plating of metal parts in 2011. Since 2015, we offer chrome-plating of ABS (acrylonitrile butadiene styrene) and PC (polycarbonate) plastic parts, such as car interior handles.
Discover our technological expertise !
| Injection | Machining | Decoration | Metallization | Test |
| --- | --- | --- | --- | --- |
| Thermoplastic injection molding | Machining of technical polymers | Automated painting line | Chromium plating line | Three-dimensional contact control |
| Overmolding of inserts | Machining of high temperature polymers | Tempography, silk-screening and hot stamping | Electroplating, zinc plating | Three-dimensional contact with optics |
| Thermoplastic injection molding of transparent parts | | Liquid paint | Metallization of plastics and composites | X-ray fluorescence, electronics |
| Gas injection, sequential | | Technical and appearance paint | 3D selective plating | Light intensity measurement - luxmeter |
| | | Ultrasonic, welding and inserting | | Traction |
| | | Manual, semi-automatic and automatic assembly | | In-line camera sensor on press |
DEMGY Deva specializes in the production of large series of industrial parts using completely automated processes. We carry out surface treatments, mainly chromium plating, but also painting and zinc plating of all kinds of parts.
Chrome plating of automotive parts is DEMGY Deva's specialty. Chrome plating gives parts a more aesthetic and metallic aspect. Zinc plating protects metal parts from corrosion but does not have a decorative purpose. Paint is used to decorate parts.
Parts go through a careful, manual quality control before we deliver them to the customer for assembly.
The customer journey at DEMGY Deva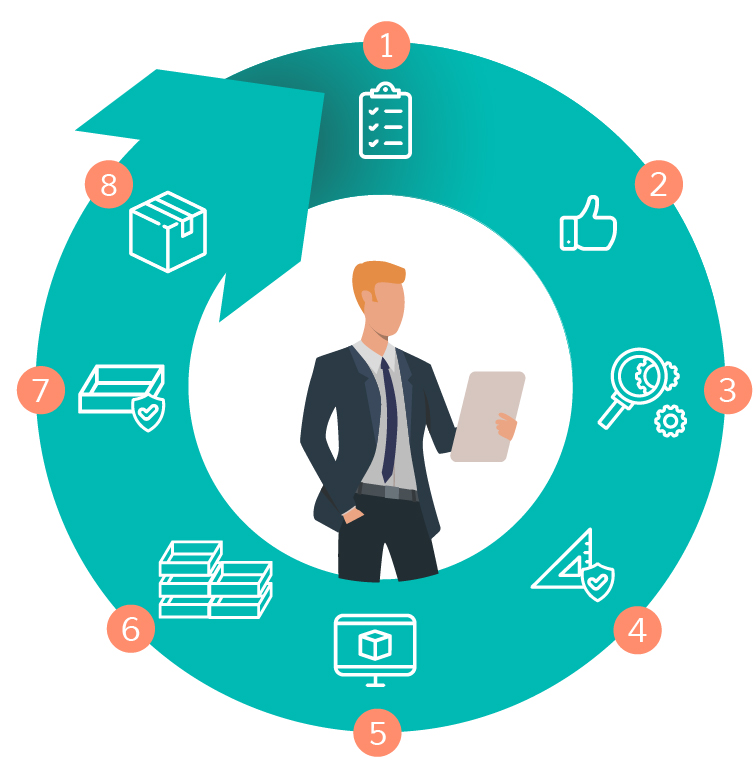 Study of the client's needs: before starting each project, we listen carefully to the missions you wish to entrust us with. We determine whether or not the project is feasible, and draw up a complete specification containing all the elements and details of your project.
Validation: our completed specification is sent to you for validation. We examine each point together and adapt it as necessary. Once it suits you, we can launch the production of samples.
Project testing: once everything has been validated, we produce samples and define the gloss range, among other things.
Quotation & Acceptance: Once the sampling phase is complete and all the points of your project have been defined and reviewed, we quote the exact cost of your project. If you accept it, we can make the first pieces !
Pre-production & compliance testing: We manufacture prototypes, to see what your future parts will look like. We examine and test every detail of your parts individually to ensure compliance. Thickness, corrosion and thermal shock resistance... everything is reviewed during this phase.
Large-scale production: if the prototypes are satisfactory, we launch the final production of your parts in large series.
Control of the parts: We control finished parts meticulously to verify that they correspond to your specifications. Their color, their shape, their shine, their appearance, the dust... Nothing is left to chance and everything must be perfect !
Loading & delivery
Discover our specialties !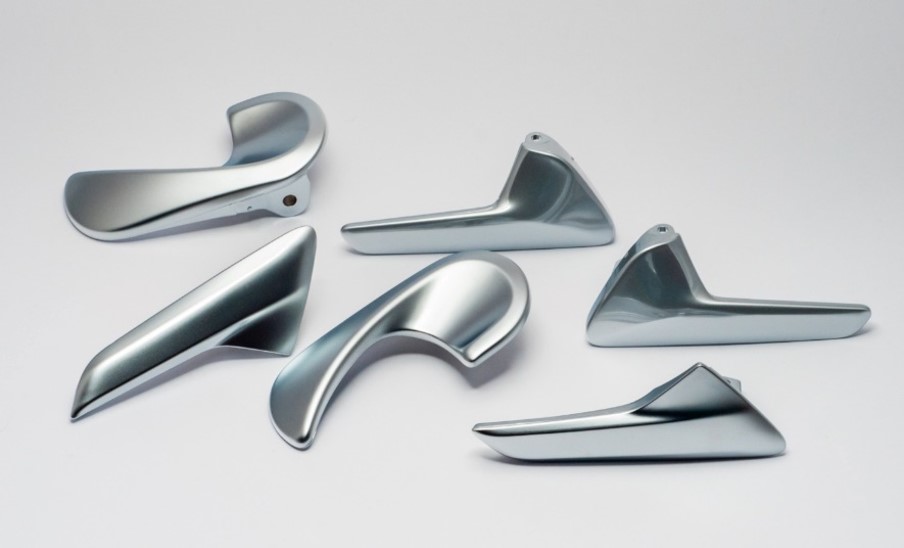 DEMGY Deva has the capability to chrome plate a large variety of parts to give them a metallic and more elegant appearance. Our customers include the automotive sector, for example for the coating of dashboards and interior handles. We also provide chrome plating for plumbing components, such as toilets. Our team's expertise in chrome plating guarantees a perfect result on all your parts.
DEMGY Deva can provide many types of industrial painting. We have a lot of experience with painting on plastic or aluminum sports equipment, including bicycle wheels and skis. DEMGY Deva also paints cosmetic components of household appliances including front housings for washing machines and dishwashers.
Finally, DEMGY Deva offers galvanizing processes. Our customers for this process are from the industrial and armaments sectors. Additionally, we serve the furniture industry, especially for the metal parts needed for the interiors of doors.
Our teams will accompany you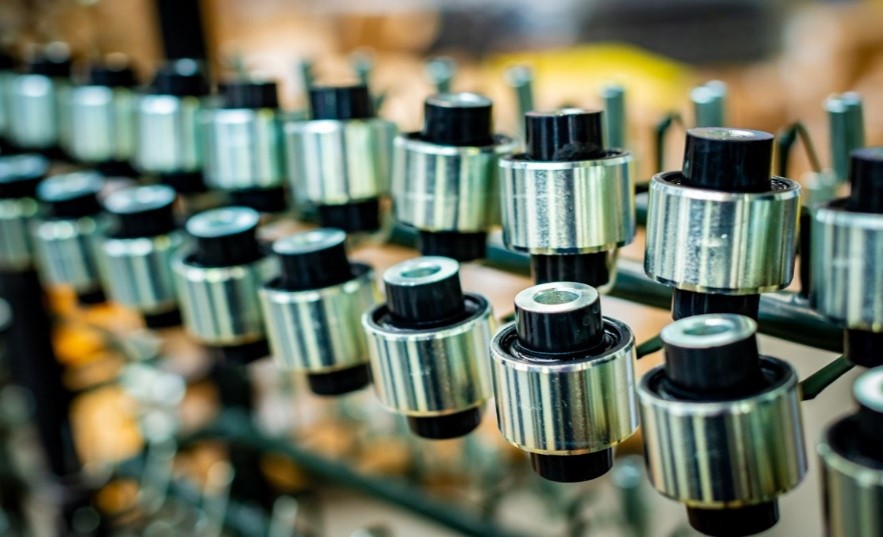 Our DEMGY facility has a small and close-knit team. Each of our employees is passionate about his or her job, which they know inside out. We take on projects within a friendly, collaborative atmosphere.
Our team of about 80 people is divided into specialized groups. The galvanizing team consists of a team of 6 people. The painting team consists of 3 teams of 6 people. The chroming team consists of 3 teams of 12 people. corrosion resistance, thermal shock resistance and many others. Our management team provides administrative support and leadership to our technical staff.
DEMGY Deva, certified quality for your projects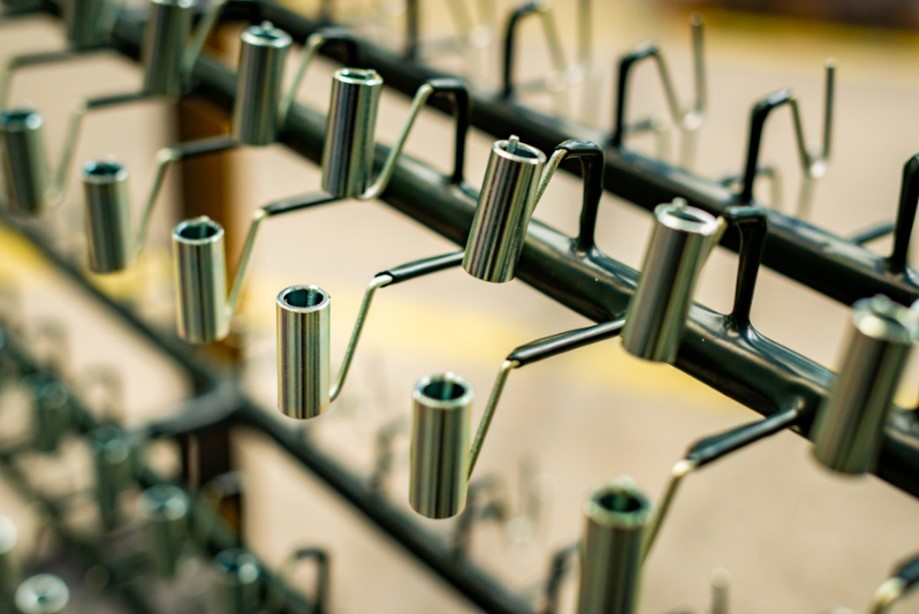 At DEMGY Deva, we are particularly attentive to the quality of the services and products we deliver to our customers. We work with even the most demanding sectors, such as the arms industry. Each part must be perfect. Every detail is carefully taken into account.
We constantly analyze our baths, especially chromium and zinc, to ensure the right concentration to maintain the quality of the finished products. We make adjustments as necessary to keep the proportions stable.
DEMGY Deva is certified ISO 9001, a certification that rewards the quality management of companies. In order to obtain this certification, we have demonstrated our rigor with regard to legal requirements, customer relations, decision making, continuous improvement and competitiveness.
DEMGY Deva is very committed to protecting the environment. We are ISO 14001 certified. This standard is issued only to companies that work to minimize their local and global impact on nature, whether it be on water, air or soil. To keep our ISO 14001 certification we must demonstrate that we constantly improve!
DEMGY Deva is ISO 45001 certified. Benefiting from an international recognition, the ISO 45001 certification is a standard defining precise requirements concerning health and safety at work. The objective of the ISO 45001 certification is to implement an efficient Occupational Health and Safety (OHS) management system to reduce the risk of accidents in all the company's functions.