DEMGY Chicago (formerly Met2plastic) is a metal to plastic solutions® provider specialized in thermoplastic injection molding, as well as the design and manufacture of its own molds. We cater to original equipment manufacturers, predominantly in the medical, aerospace, and industrial sectors.
We manufacture high-end parts in large or small quantities, from simple components to highly complex assemblies, made to customer requirements. With our vast expertise in this field, combined with the latest state-of-the-art machines and technology, we are able to produce high-quality parts with speed.
We are conveniently located in the Northwest Chicagoland suburb of Elk Grove Village, Illinois, just a 15 minute drive from Chicago O'hare airport, and less than a day's drive from Midwestern U.S states, including Indiana, Iowa, Michigan, Minnesota, Missouri, and Ohio.
Discover our expertises and our technologies
Did you know that DEMGY Chicago offers no less than 17 technologies related to 5 different areas of expertise? You can find details of these below.
| Injection | Machining | Tooling | Metallization & decoration | Inspection, testing & analysis |
| --- | --- | --- | --- | --- |
| Thermoplastic Injection molding | Machining of technical polymers | Co-design of components and parts | Manual and automated assembly | CMM Inspection |
| Thermoplastic - Injection molding in ISO class 8 (class 100,000) clean room | Machining of HPP (High Performance Plastic) polymers | Co-design and manufacture of sub-assemblies | Ultrasonic welding and assembly | Optical inspection equipment |
| Gas assist and structural foam molding | | Design of molds and tooling | | Color analysis with Color Spectraphotometer Material verification with Melt Flow Rheometer |
| | | Moldflow study | | |
| Overmolding of inserts | | Tooling manufacture | | |
DEMGY Chicago is at your disposal for the duration of your project. From launch, mold building and production, right through to its completion, our multi-functional teams will work diligently on your project to ensure you receive high-quality service!
Your most complex projects, we realize them
The very beginning of a project should never be taken lightly. At DEMGY Chicago, we are committed to finding fast and effective solutions. With reactive technical support, accurate information and dynamic teams, we are able to plan all of the necessary phases and complete them on schedule. We also use ERP (Enterprise Resource Planning) and MRP (Manufacturing Resource Planning) software to ensure better management of time and raw material inventories.
Prior to production launch, we can help you improve and refine your parts using CAD software and Moldflow software, which allows us to ensure that optimal conditions are achieved, thus ensuring cost savings, reduced production time, greater efficiency and much more. We also make sure that all of the raw materials are in stock before proceeding with the manufacture of your technical parts.
Lastly, we handle tooling transfer projects (in particular molds) if another supplier was involved in producing your parts before us. Upon receipt of the tools, we complete a thorough inspection and can provide mold optimization recommendations so that the production phase runs as smoothly as possible.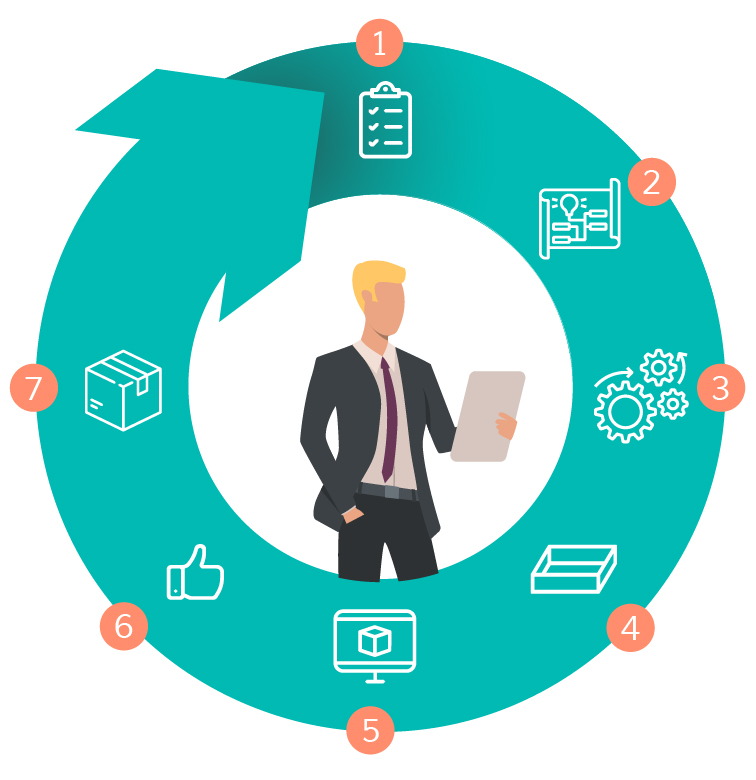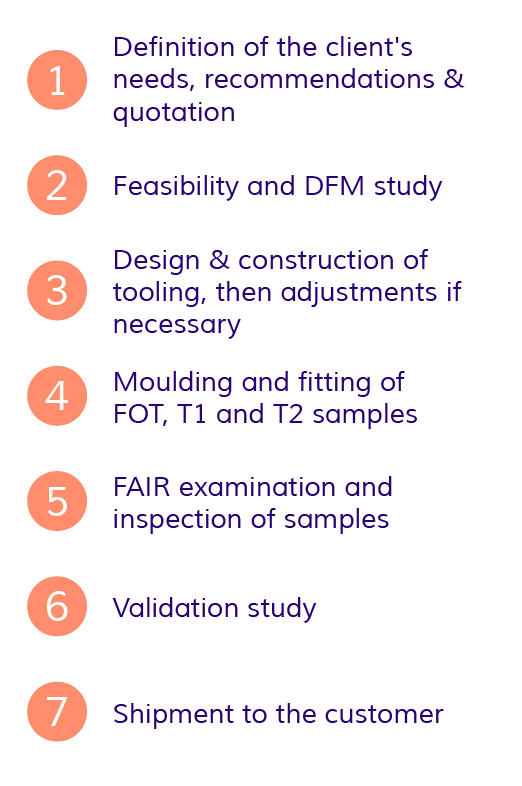 How do we make our molds?
DEMGY Chicago has a full-service toolroom equipped with the latest technology so we can build and optimize your molds while meeting tight deadline requirements. In parallel, we've partnered with outside mold manufacturers so we can build complex or simple parts of any size, from small runs to mass production.
Our equipment includes the latest in CAD/CAM (Computer-Aided Design/Computer-Aided Manufacturing), high speed CNC Machining (Computer Numerical Control) and CNC EDM (Electrical Discharge Machining) technology. We design high quality molds in aluminium, P20 prehard steel, or hardened steel so that we can bring your technical parts to life.
Production
With our advanced technologies and equipment, we are able to launch production: the injection molding of your parts. For this, we have the latest, fully automated injection molding presses, capable of tight tolerance molding, structural foam molding and gas-assisted molding. We also have ISO Class 8 clean room molding capability to meet stringent part cleanliness standards.
We are able to mold a variety of thermoplastic materials, including high performance plastics, such as PEEK or Ultem™, engineered resins, such as nylon and polycarbonate, and commodity resins, such as polypropylene or polystyrene.
Once we've molded your parts, the production process does not stop! We can also machine or assemble your parts, if required, and offer our customers a range of value-added services, details of which are provided below.
Value-added services and testing
In addition to injection molding, DEMGY Chicago offers a wide range of services, such as part and insert assembly. This includes ultrasonic welding and heat staking, as well as adhesive and solvent bonding.
Once your parts have been molded, we can then finish machine them to add specific details or to meet tight tolerances. With our CNC machining capability, we can add holes to the parts, engrave text, and more. But that's not all! We can also perform all of your finishing operations: shield and decorative painting, pad printing, hot stamping, etc.
Of course, once the parts are finished, we inspect, test and verify them to ensure conformance to your requirements. Utilizing a risk-based approach and error proof methodologies, our team is focused on achieving zero defect results.
Do you know our fields of activity? Discover them!
We primarily provide products tailored to the needs of Original Equipment Manufacturers (OEMs) and Tier 1 suppliers. We can manufacture individual parts or series ranging from 100 to 100,000 units, according to the specific needs of each company.
We are specialists in the manufacture of molds and plastic injection molding of parts for the medical, aerospace, and industrial sectors. As you may have already seen, DEMGY Chicago can also co-design your parts, assemble them, machine them, finish them and test them.
As quality is our main focus, we are able to offer highly complex parts to industries with very stringent requirements. As the slightest mistake could prove fatal in these sectors, we ensure that we provide you with high-end critical parts.
Our multi-functional expertise and state-of-the-art equipment allows us to offer services that are much more in line with the requirements of these sectors than other traditional injection molding companies. This is how we have established ourselves as a leader in these complex industries.
Our teams and resources available to you
At DEMGY Chicago, we are proud of our talented and motivated teams. Our workforce includes sales, engineering, tooling, production and quality teams. The corporate culture within DEMGY Chicago is very strong, helping our employees to work diligently and always with a smile.
We work with many partners, including mold manufacturers and plastic resin suppliers to produce high-quality molds and thermoplastic parts, from simple components to highly complex assemblies, depending on your requirements.
We also have advanced in-house tooling capabilities where we make our own tools and regularly handle many tooling programs. Therefore, whatever parts you wish to create, we can guarantee reduced time to market and cost savings.
DEMGY Chicago, certified quality for your projects
DEMGY Chicago has numerous certifications. In addition to ISO 9001, the company is certified to ISO 13485, in particular with regard to injection molding. This international quality standard ensures the effectiveness of the quality management system applied to the field of medical devices, an industry where nothing can be left to chance. Wanting to provide our customers with excellent service, this certification attests to good risk management practice and rigor in the tests carried out before production, the traceability of each product and compliance with the regulations in force.
In addition to the medical field, DEMGY Chicago expertise in thermoplastic injection molding is also recognized in the aerospace industry! The company conforms to the AS 9100 standard, which, as with the medical device standard ISO 13485, attests to the level of the quality and risk management of organizations active in the aerospace industry. It certifies DEMGY Chicago control of various processes, continuous risk analysis and performance improvement.