DEMGY Paris is the original workshop of the Group, the one with which everything started. It is in Clamart, at the gates of Paris, that DEMGY was born in January 1947 under the name Dedienne, from the surname of its founder, Roland Dedienne. This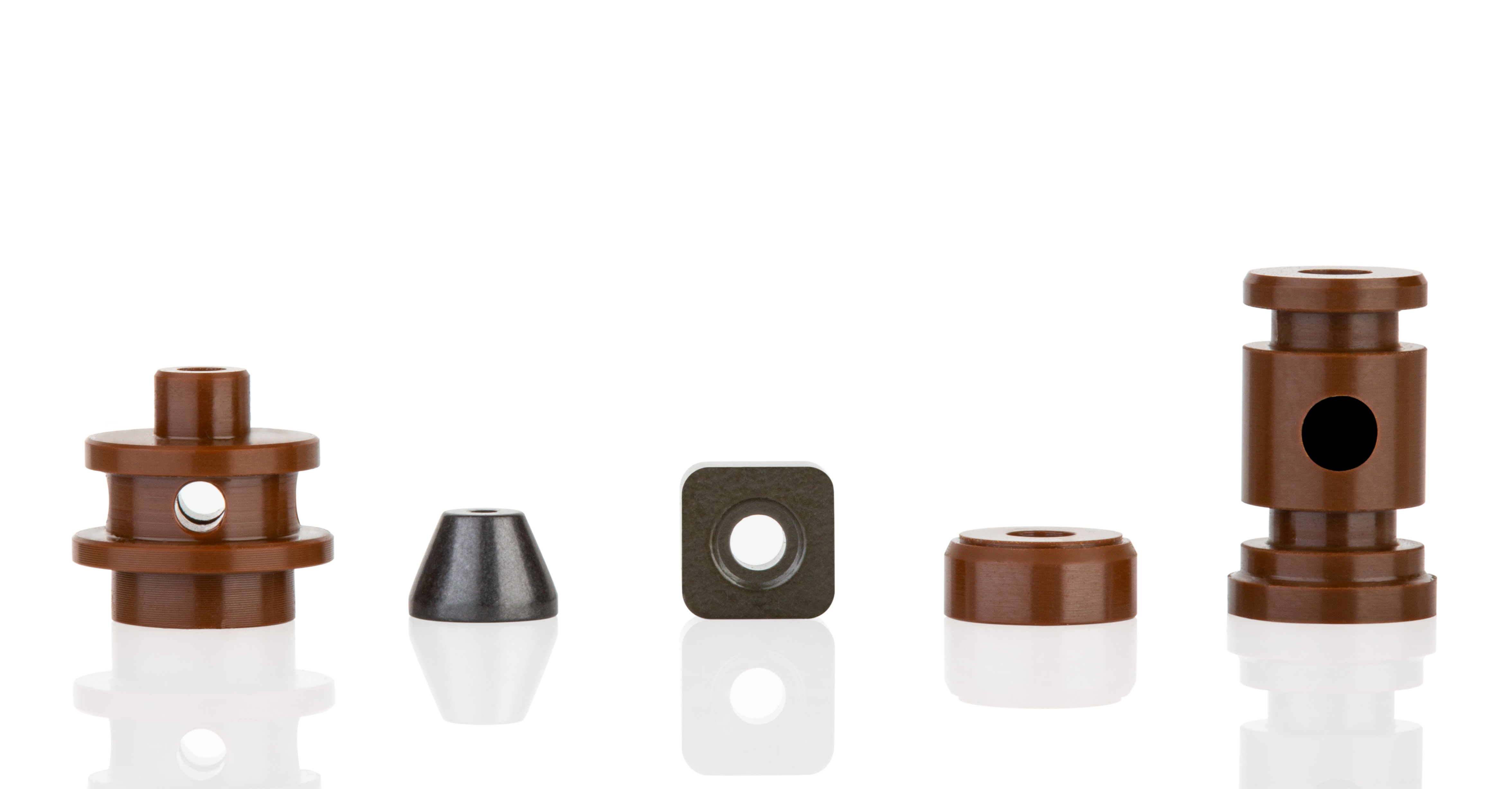 choice of location is not insignificant: it allows us to be close to the headquarters of prestigious clients in all fields of activity, but also to their partners.
The Clamart workshop is specialized in plastic machining, which represents 100% of its activity. It deals with all types of technical plastics and distributes Vespel exclusively in France. It is the only company to have sufficient expertise throughout the country for this type of material. DEMGY Paris produces very small and medium parts, in small and large series.
The watchword of the Clamart workshop is customer satisfaction. Our focus is on the customer, both in terms of time and quality. We carefully examine each step of your project to move it forward and check the parts we machine to make sure they are in order.
Discover our expertise and technologies
| Polyimides | Machining | Decoration | Test |
| --- | --- | --- | --- |
| Aggregated distiller in France for all Dupont Vespel Polyimides parts and semi-finished products | Machining of technical polymers | Collage Technique | Three-dimensional contact control |
| | Machining of high temperature polymers | | Three-dimensional contact with optics |
| | Machining and polishing of transparent and optical parts | | |
| | Micro machining | | |
| | 3 to 5 axis machining and trimming of composites | | |
| | Cutting | | |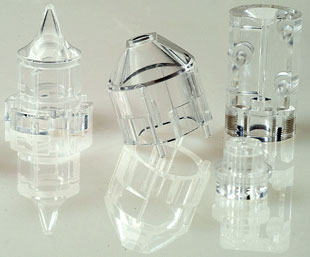 DEMGY Paris is a technically advanced workshop. We have many state-of-the-art machines capable of carrying out your various machining projects, regardless of their nature and scope.
Equipped with milling machines capable of machining all types of mechanical parts, both individually and in series.
In addition to these machines, there are three twin-spindle lathes, one of which is 5-axis. This tool is capable of producing small parts from 2 to 200 millimeters in diameter.
DEMGY Paris also has four NC (Numerical Control) lathes, two of which are equipped with a bar feeder for automatic machining and a robot.
For finishing, DEMGY Paris has a LMA laser marking machine and a complete finishing and deburring workshop, in order to provide our customers with technical parts that are as functional as they are aesthetic at the end of production.
Finally, our control laboratory ensures the quality of your parts before delivery. It includes a three-dimensional machine, a smartscope and a roughness control machine. No defect can escape our laboratory!
The customer journey at DEMGY Paris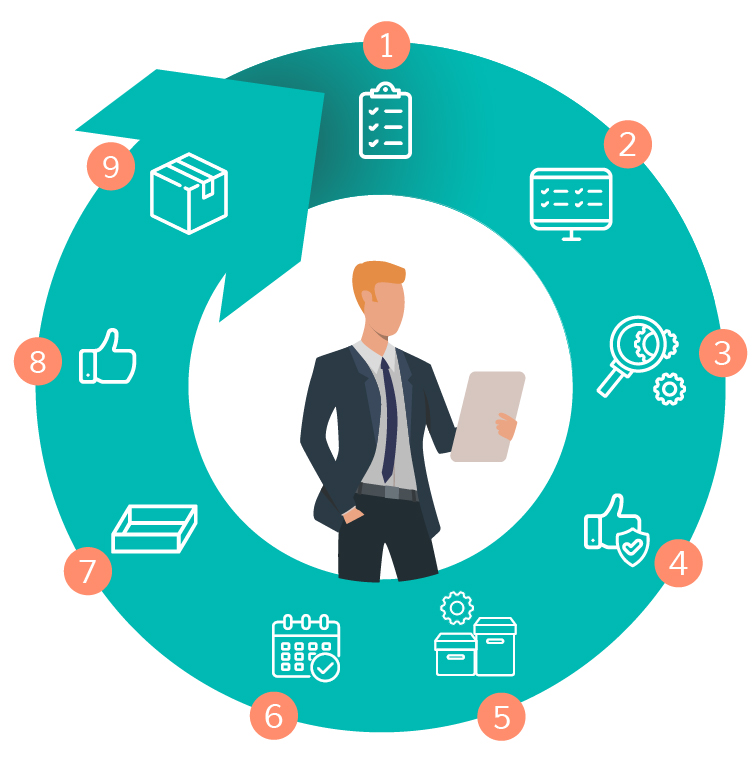 Receipt of the order & verification: when you send us an order, we always start by analyzing and verifying it. We study its technical, legal, commercial and economic aspects.
Industrial feasibility analysis: one of the most important steps of your project is the feasibility study. We study each parameter and each detail of the future production to ensure its viability. Moreover, our design office will be able to propose the best solution or layout to meet your needs.
Production planning & validation: once we have all the keys in hand to start the concrete realization of your project, we let you know the deadlines within which we think we can finish the production. It's up to you to accept or not!
ERP entry: once your order is accepted, it is entered into our ERP, a management software that will allow us to mention the first formalities and certain deadlines.
Quality verification: at DEMGY Paris, quality is our priority. For this reason, we carry out meticulous verifications of the documents and quality requirements of our customers before even starting the production of the order.
Supply of materials and components: to be able to start machining the parts and produce the prototypes, we must have in our possession all the raw materials and components that will be used.
Production: When all aspects of your project are validated, the most important step is launched, namely production. During this phase, our teams use their know-how to ensure that everything runs as smoothly as possible.
Quality control: Once production is completed, and even during production, numerous tests are carried out on the parts ordered. We make sure that they correspond exactly to your requirements.
Shipping: Once all the parts have been machined and checked, we ship them to you. Now you can assemble them as you wish!
Do you know our fields of activity? Discover them!
Thanks to the diversity of its know-how, DEMGY Paris is able to machine all types of parts for many fields of activity where precision and rigor are required, such as the aeronautical, space and military industries, as well as for automobile racing. Finally, DEMGY Paris also manufactures parts for the petrochemical and electrical industries. Versatility is our strength!
Our teams will accompany you
The DEMGY Paris site has a team of about twenty people. They are divided into several departments: management, sales administration, sales representatives, methods, industrialization, quality and production (which includes adjusters and digital control operators).
This small structure and reduced teams facilitate synergy, cooperation and the circulation of information.
This way, your projects move forward more easily and faster!
The proximity between the different departments facilitates the realization of the project. In general, our teams are versatile, motivated and passionate about their work.
Thanks to a wide range of machines, our teams are able to be agile and adaptable when the workload is higher than usual. These machines work in total autonomy, thanks to the presence of specialized technicians.
These same technicians perform regular maintenance on their machines to ensure that our system remains operational in all circumstances.
DEMGY Paris, certified quality for your projects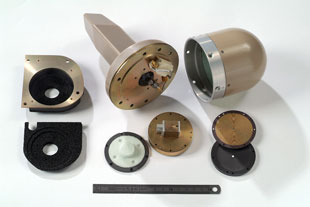 At DEMGY Paris, we want to respect all our clients' requirements. To do so, we carry out a demanding and rigorous documentary follow-up. Our teams are perfectly organized and know their job inside out. The technicians and workers of the workshop show expertise and rigor whatever the situation. Our reliable and modern machines guarantee the quality you need for your projects.
Thanks to this organization and to the commitment of our teams, we respect all the deadlines agreed with our customers, and all the parts delivered are rigorously in conformity with the specifications, in a dimensional and documentary way.
DEMGY Paris is ISO 9001 certified, a globally recognized standard that rewards the proper functioning of quality management systems in companies. It also holds the EN 9100 certification, a standard that ensures the quality of products for the aeronautical and space market. Finally, DEMGY Paris has received the AQAP 2110 certification, set up by NATO, which ensures the quality of products distributed to the military sector.
At DEMGY Paris, we offer quality products and services while paying attention to the impact we have on the environment. Thanks to this, we have obtained the ISO 14001 certification, a standard that rewards companies that make efforts in environmental management and that seek to improve in the long term.