DEMGY Frasne is an expert in high-precision plastics engineering. Our specialty? Microinjection of technical thermoplastic materials (PEEK, PPS, LCP, etc.) for small and very small parts. We produce small parts for a huge number of industries, including the automotive, medical, cabling and aeronautics industries. Precision is key!
Our unique selling point? We complete every step of your project internally, starting with our design office and finishing with the final packaging. We design and produce our injection tools ourselves, as well as the associated accessories designed to give your products added value. Meaning you save time with a single development team dedicated to you!
Finally, we are committed to delivering impeccable quality. All of this is made possible thanks to meticulously planned processes and steps (study, design, thorough testing, etc.) and optimum-performance production lines that are ultra-modern and 100% automated.
Find out more about our expertise and technology
Did you know that DEMGY Frasne offers 14 different technologies affiliated with six different centres of expertise? Find out more below!
| Injection | Tools | Metal plating and decoration | Testing |
| --- | --- | --- | --- |
| Thermoplastic injection | Co-design of components and parts | Laser marking | Contact and/or optical three-dimensional inspection |
| ISO 8 thermoplastic injection cleanroom | Mould and tool design | Automated assembly | Optical three-dimensional inspection |
| Transparent part thermoplastic injection | Rheological study | | |
| Microinjection | Mould and tool production | | |
| Insert moulding | | | |
The industrial manufacture of a product requires a large number of skills. These include mould and automation design and manufacture, injection moulding, metrology, adjustment and qualification. DEMGY Frasne is able to complete all of these steps internally. Quality assurance is also extremely important. At the end of the project, to ensure your products are up to standard, the full quality assurance warrant is submitted for approval.
Projects are completed using the following steps. If you wish, a confidentiality agreement between the parties can be used to protect the project, notably from plagiarism.
Feasibility review: together we check that your project is feasible and viable. This means studying, amongst other things, the technical, financial and commercial aspects of the project.
Analysis: before launching your project, it is important to first assess all of its associated risks. This includes completing an FMEA (failure mode and effects analysis). This not only enables us to limit risks but also to anticipate all scenarios.
Mould design: using rheological simulations, we study various possible material flow progressions in the mould. After optimizing the simulation results, we design the tool in accordance with the requirements of all parties involved.
Mechanical production of the mould: our high-tech mechanical workshop and the methods designed by our teams enable us to manufacture high-precision moulds. We use multi-cavity moulds (currently up to 32) for a faster, more efficient manufacturing process. To save you time and money, we also offer moulds that can produce several parts from a single cast thanks to their interchangeable cavities.
Production automation: this is the last step in manufacturing your small technical parts. Production that is 100% automated and designed by our teams makes this step faster and cleaner. Our numerous permanent inspection tools also ensure it is as efficient as possible.
Once production is complete, you can check the quality of the manufactured parts using sample submission warrants. These can be either a PPAP (Production Part Approval Process) or an FAI (First Article Inspection) review. They can also include an SAT (Site Acceptance Test), IQ (Installation Qualification), OQ (Operational Qualification) or PQ (Performance Qualification).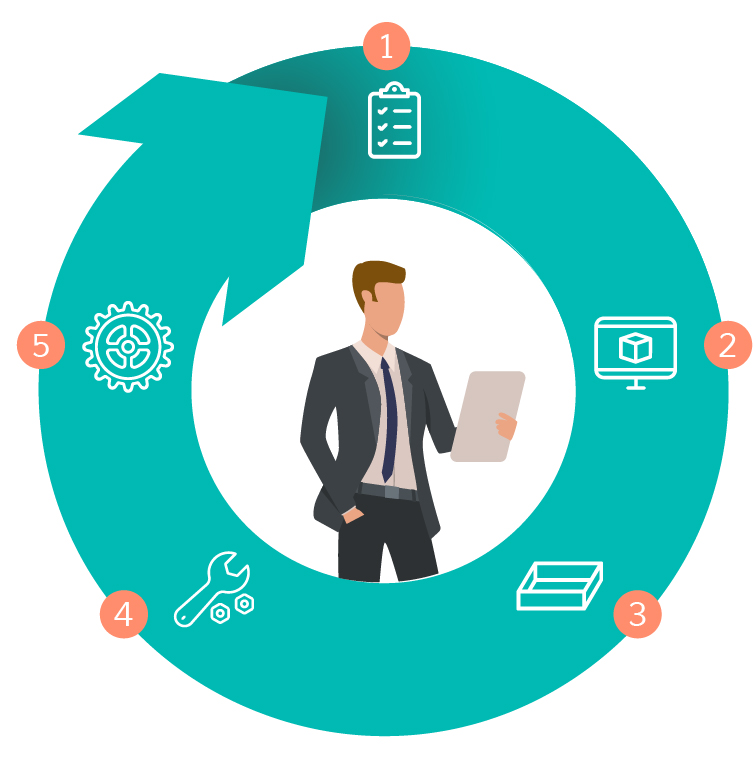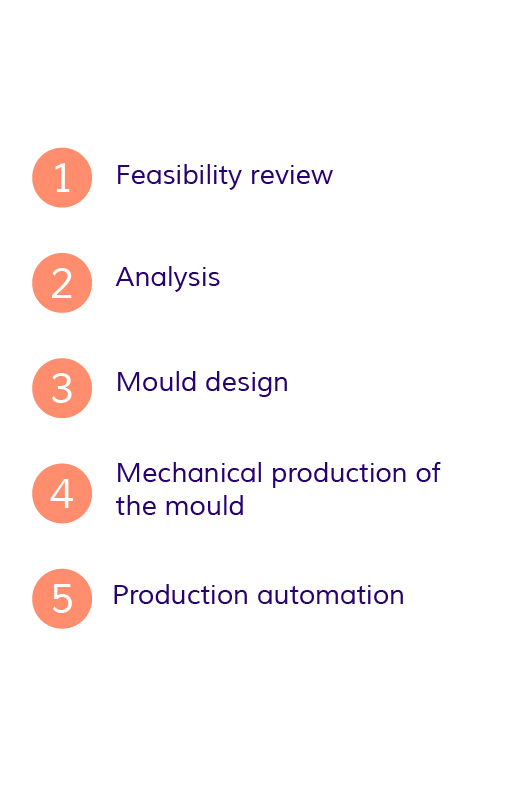 Which sectors do we work with?
Thanks to the solid expertise and knowledge that we have developed over time, DEMGY Frasne has a large number of clients from a huge range of backgrounds. Most are international businesses operating in a wide variety of different industries. These include the automotive, medical, watchmaking, metrology, aeronautics, mechatronics and defence industries.
Our versality is in large part due to the numerous technologies we are able to offer. Find out more about our expertise:
Injection: Thermoplastic materials, microinjection and insert moulding.
To complete these delicate operations, we have a wide range of precision industrial machinery. We have twenty-two 15- to 100-ton Arburg moulding machines. Poly-articulated robots carry out visual inspections and complete any additional operations to add value to your products.
Small, micro and nano parts are accurate to within a few microns, for both plastic overmoulding and plastic injection/micro-injection.
Our most delicate productions are fully automated to ensure increased precision and limited manipulation. We designed the automated cells of these machines ourselves.
We can also produce parts in individual cells, which is ideal for the medical, electrical and automotive industries. All of these elements enable us to produce over 85 million parts per year!

Tools: Component co-design, mould design for plastic microinjection, and rheological studies.
By producing our own multi-cavity moulds for microinjection and overmoulding, we reduce the number of intermediaries involved in production. Our machining centres are true technological marvels. We have wire EDM machines and a high-precision micro-milling machine with an integrated dimensional inspection system.
These machines are extremely reliable, enabling us to guarantee excellent repeatability for your technical parts.

Assembly: This operation makes it possible to add value to your small parts. All of these operations are automated and completed internally, limiting the number of intermediaries involved in the project. This means significant savings in terms of time and resources!
All of our technology is designed around the same goal. The production of small, high-precision technical parts through injection, microinjection and overmoulding. For this reason, we use thermoplastic materials designed to suit the specific needs of the parts being developed and produced.
Bring your most complex projects to life with DEMGY Frasne
DEMGY Frasne is a skills incubator! Under one roof, we bring together people with a wide range of profiles and skills. This combined expertise enables our teams to work together, exchanging ideas and sharing knowledge in order to progress even further.
From plastics engineers to designers, mould mechanics, metrologists, quality specialists and administrative staff, DEMGY Frasne brings together a huge number of talents. This enables us to offer products that are designed, produced and tested internally from start to finish!
DEMGY Frasne, certified quality for your projects
Certifications attesting to our efficiency and precision! Over time, DEMGY Frasne has received a large number of awards. Find out more below.
DEMGY Frasne is certified ISO 9001, which guarantees the efficiency of our quality management systems. More specifically, it certifies that deadlines are met, as well as client requirements, and that customer satisfaction is being continually improved.
But that's not all! We are also IATF 16949 certified, a standard designed to promote quality in the automotive industry. This standard is derived from the ISO 9001 and ensures respect of the procedures unique to the automotive industry.
We have also been ISO 13485 certified. This reflects the quality of our management systems applied to medical devices. From design to distribution and installation, this standard guarantees the quality of the work environment. It also attests to our ability to manage documents and production, and the identification and traceability of medical products.
DEMGY Frasne has also been named an Authorized Economic Operator for export. This status is a token of trust with international standing. It is also particularly useful for us, as we export almost 60% of our production.
This certification enables us, amongst other things, to simplify and secure interactions with European customs offices. To obtain this status, DEMGY Frasne had to prove its good character and high standards for internal inspections and traceability. We also had to prove our financial solvency and our strict standards in terms of customs procedures.
Choose the materials you need!