Vespel®, Polyimide Very High Performance, Optimize Energy Performance
For nearly twenty years, the DEMGY has been the exclusive distributor in France for all the parts and semi-finished products of the DuPont Vespel® polyimide range. They enable us to meet the needs and expectations of our customers by manufacturing mass production parts in very high performance materials.
The search for space and weight savings in modern technical applications results in higher expectations in terms of heat resistance and wear resistance of the materials used.
The DuPont Vespel® range, originally developed in partnership with NASA, comes in five distinct families of polymers to provide solutions and meet the most extreme requirements of geometry, mechanical strength, thermal, chemical wear and friction and a long life even under stress conditions such as tribology, radiation, temperature.
The key assets of Vespel®
A constant level of production quality for improved yields,
Increased energy efficiency and system reliability,
Reducing the size and mass of components to lighter parts, replacing metal, ceramic and many other standard engineering plastics,
Use in extreme temperatures: continuous from -270°C to +315°C, peak at 550°C.
Vespel®, A complete range
The DuPont Vespel® range is very broad and now comes in five distinct families which, thanks to their physical characteristics and design flexibility, demonstrate their interest in more and more varied applications in demanding fields. DuPont Vespel® product lines cover a wide range of possibilities to offer you optimal solutions.
Nearly 100 different grades are available to provide specific solutions and meet the most extreme requirements of geometry, mechanical strength, thermal, chemical, wear and friction.
DuPont Vespel® S polyimide is part of a family of polymers apart, which will be distinguished from thermoplastics in that despite its linear nature, this material with crystalline structure is infusible and has no glass transition temperature or point observable melting point below the decomposition temperature very much higher than 500°C.
The Vespel® S gives the manufactured parts a combination of unique properties that allow them to excel in applications that require high temperature resistance, excellent wear and friction resistance and long service life even in most severe environments.
The specific properties of DuPont Vespel® S polyimide
Permissible operating temperature range in the extremely wide air range from -273°C up to 290°C continuously and close to 500°C peak with maintenance of mechanical strength at a high level.
Resistance to thermal oxidation.
Excellent wear and friction resistance to operate under high pressure and velocity (pV) conditions: 12 MPa.m / s dry and up to 40 MPa.m / s lubricated.
Thermal Expansion Coefficient (CTE) that can be close to that of metallic materials.
Excellent thermal and electrical insulation.
Very low moisture absorption rate.
Excellent resistance to radiation.
Low outgassing.
Intrinsically flame retardant (UL 94-V0).
Thanks to the exceptional properties of this material, DuPont Vespel® S parts, whether machined from semi-finished products or made by the Direct Forming process, are widely used for "thermal and / or tribological" applications in the aerospace, automotive, space, cryogenic, electrical, textile, chemical, nuclear, glass and semiconductor industries.
DuPont Vespel® S parts and semi-finished products are obtained by powder sintering. We can distinguish isostatic sintering which makes it possible to manufacture large semi-products and the direct forming process generally used for the mass production of small components whose design is compatible with compression tools.
The products thus obtained can only be modified by machining, because the softening and degradation temperatures are too close.
Machining parts from standard DuPont Vespel® S semi-finished products is the most economical process for low productions or complex geometry. It can be done using standard equipment and light metal working techniques.
For productions exceeding 500 to 1000 pieces per year, and when the geometry is compatible, the direct forming process generally makes it possible to propose an economic alternative for the production of finished parts according to customer plan.
Perfect customization of parts and subassemblies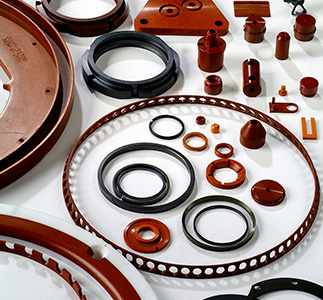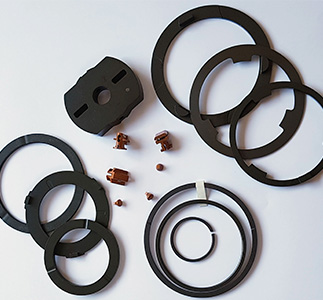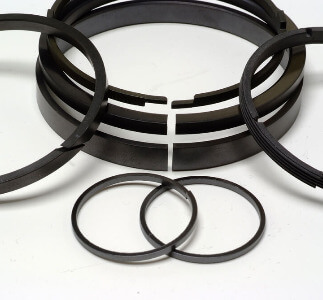 DEMGY has a long experience of machining high-performance polymers and products from the DuPont Vespel® range. We carry out studies or codesign, prototypes and production in small, medium and large series.
What are the raw versions of DuPont Vespel®?
DuPont Vespel® S polyimide is available as: