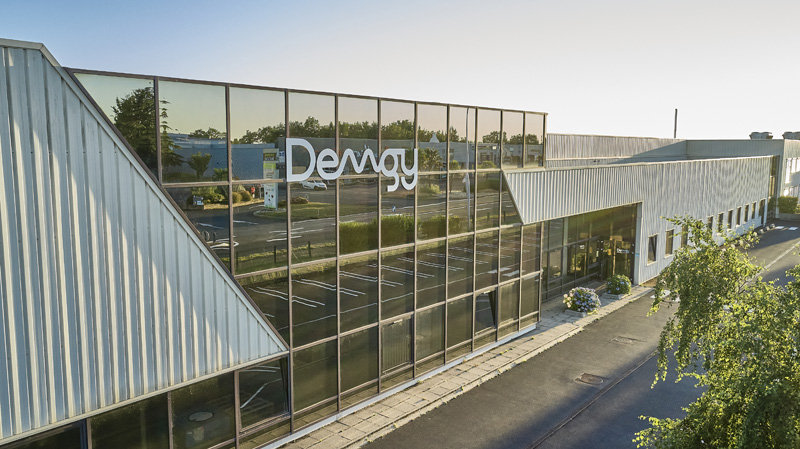 DEMGY Atlantique, located in Gétigné in the Loire-Atlantique region, is part of an industrial environment totally involved in the transformation of plastic materials -parts and tools- and supports the development of your projects. This subsidiary is the Group's "Automotive" Competence Center, and also works with companies in the Aerospace, Luggage and Medical sectors.
Our core business focuses on injection molding, assembly and forming. Our Multiplasturgy® concept also allows us to offer you customized projects thanks to technologies such as machining, metallization and painting. We are involved in all your projects, especially for the mass production of parts and sub-assemblies.
Our greatest asset? The mastery of our know-how. In terms of project management, our organization allows us, thanks to the complexity and precision of our tools, to manufacture parts that meet your specific needs with the objective of optimizing our response to your specifications, even the most demanding. Our production workshops meet the quality requirements - technical and logistical - throughout the life of your projects.
Discover our expertise and technologies
DEMGY Atlantique's main strength is the mastery of mass production of complex and multi-technological projects. Our expertise ensures a complete control of the transformation processes, in order to guarantee an flawless quality for your finished products. Numerous technologies are used to produce your technical or appearance parts.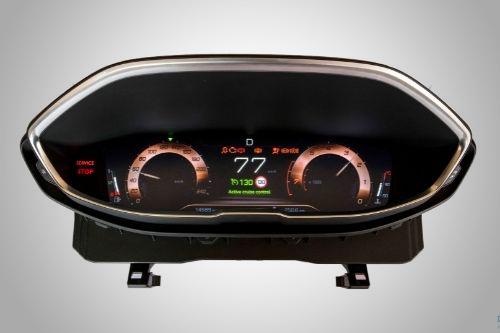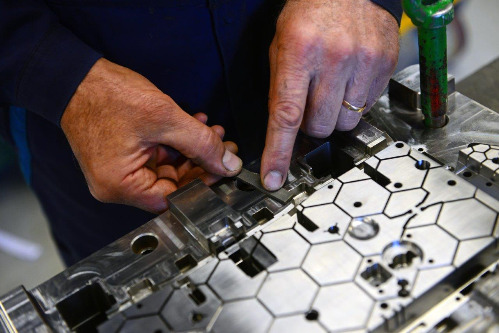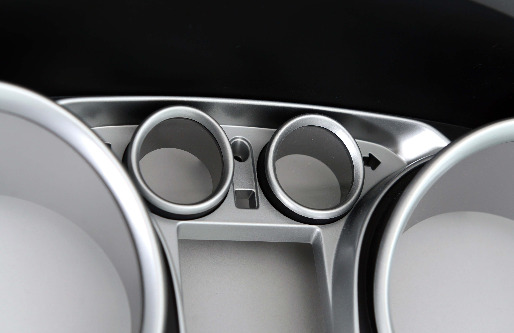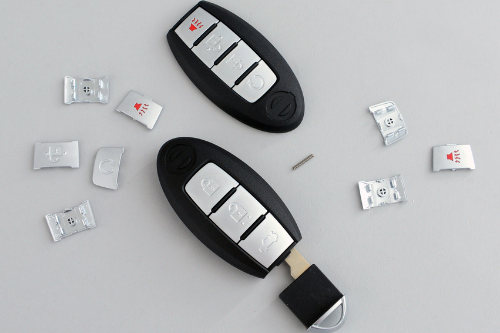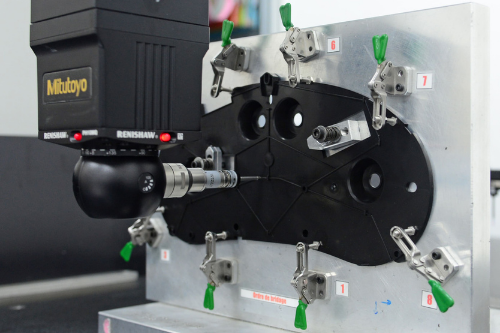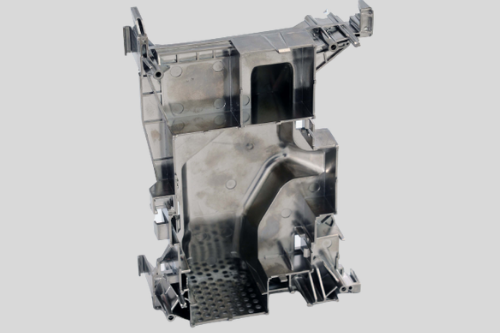 Tooling, injection & added value
DEMGY Atlantique's expertise lies first and foremost with optimized tooling management, which is designed in-house, thanks to the know-how of our teams equipped with 4.0 digital tools. Our in-house toolroom allows us to guarantee adjustment, improvement and maintenance throughout the life of your parts.
We implement different technologies such as bi-material injection, overmolding and gas-assist injection molding. The first one allows to inject several materials with different characteristics on the same part such as color, rigidity or a different compatibility to metallization, etc... The second one allows to integrate a metallic function on a plastic part by overmolding an insert. Gas-assist injection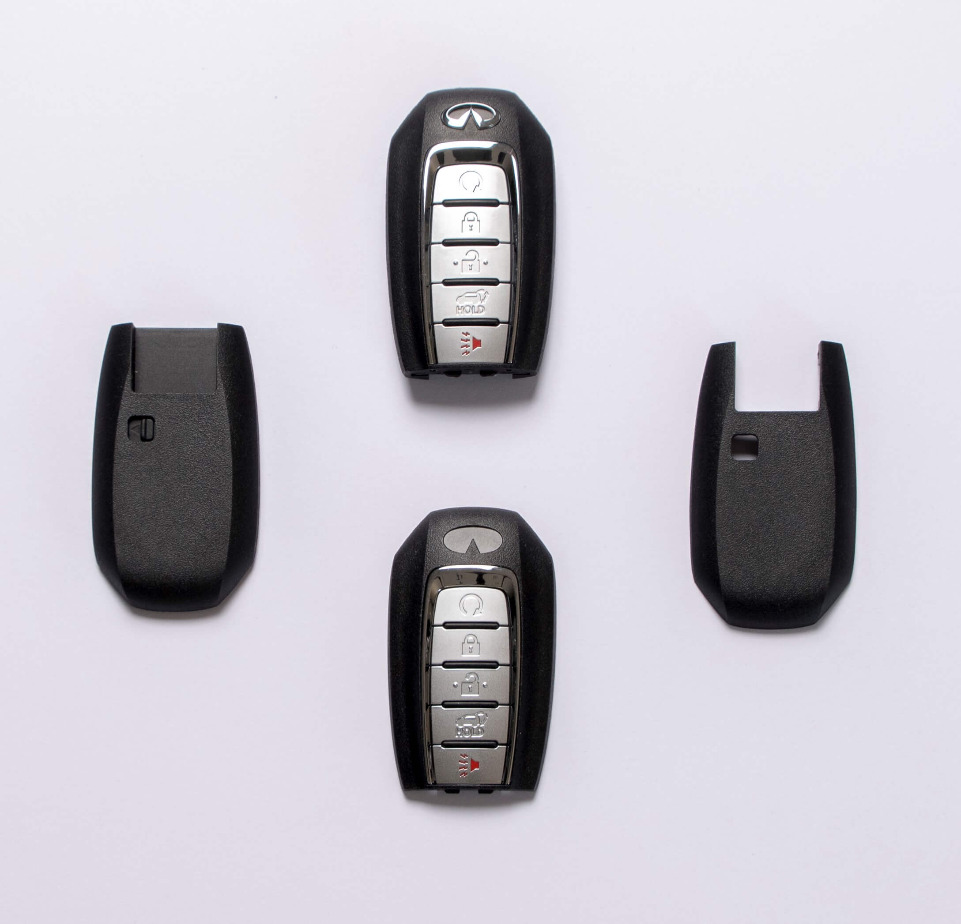 functionalizes plastic parts by integrating a gas stream that improves dimensional stability, limiting deformation and reducing certain thicknesses. These technologies can integrate the installation, manually or automatically, of plastic or metal inserts. In the field of overmolding, each equipment is specific and depends on the quantities, with or without automation and robotization.
Our technical expertise meets the high dimensional and quality requirements of your safety-critical parts, such as fuel connectors or airbag components.
We also offer you the possibility of injection molding your parts in a controlled environment in order to control the level of cleanliness of these parts and to avoid the risk of any pollution due to small volatile particles. We thus meet the increasingly stringent requirements of the world of electronics, semiconductors and all connected objects.
Our know-how gives the look and the aestheticism your parts demand, thanks to our technologies. DEMGY Atlantique can screen print, pad print or hot stamp your products. We can also paint or chrome for a more aesthetic finish or to ensure electrical conductivity.
Finally, thanks to Roctool® technology, we can embellish and improve the surface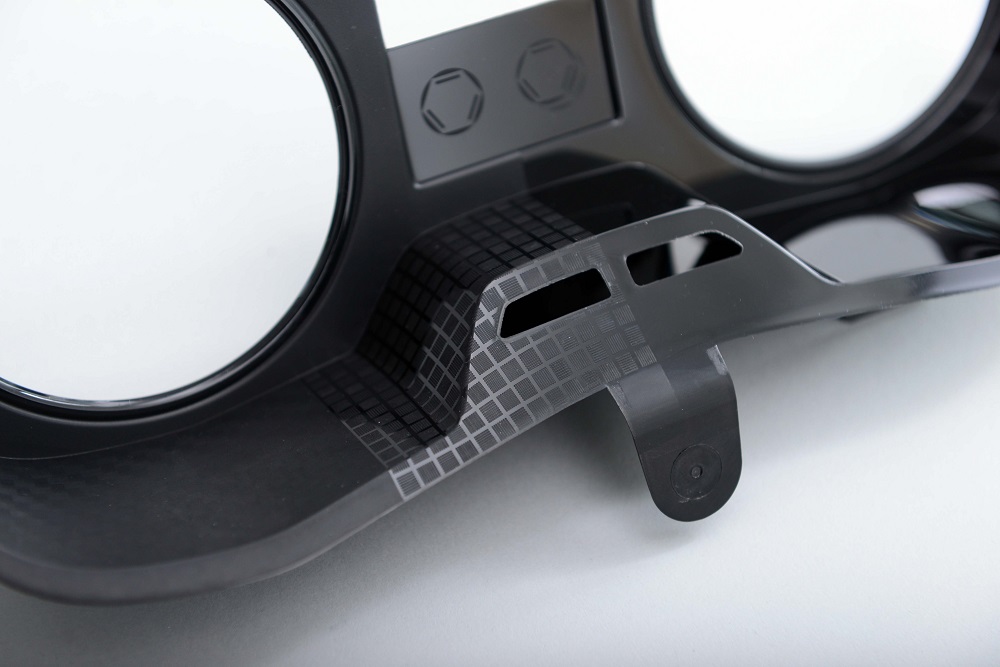 condition of an injection molded part using an induction generator. An additional advantage of Roctool® technology is the possibility to enhance the surface of a part produced from recycled material.

DEMGY Atlantique can perform an "in-mould labelling". This technology consists of putting a film on the part to provide scratch-resistence; it can also allows for personalization of your part, giving you the ability to add your logo, for example. Your decoration will be an integral part of your product.
Similarly, if your products require metalization, DEMGY Atlantique is able to offer you electromagnetic shielding utilizing a PVD coating (Physical Vapor Deposition), in partnership with the HEF company.
Assembly after injection and finishing
As a manufacturer of mass-produced plastic parts, we offer you an additional service: industrialization of the assembly process. This is the finishing process! We use mastered technologies to complete your projects. We can carry out and combine welding, clipping, and riveting of your products. The riveting process allows us to give the desired shape to your rivets so that they fit perfectly into your assemblies.
DEMGY Atlantique is able to carry out mirror or ultrasound welding. The latter allows us to assemble your products using the heat generated by the emission of ultrasounds. Mirror welding uses a heating blade that will assemble two sets into one thanks to the melting point.
Thermoplastic composites
Thermoplastic composites make technical resins (including biosourced resins such as PLA and certain polyamides) and their reinforcement (carbon, flax, glass fibers, etc.) accessible to the world of mass production thanks to their short processing time and the introduction of just the right amount of material.
Thermoplastic composites meet the weight reduction challenges of our customers and many sectors of activity (aerospace, automotive, leisure, etc.).
Our thermoplastic composites workshop can produce complex shaped parts utilizing a wide range of stamping and thermocompression presses.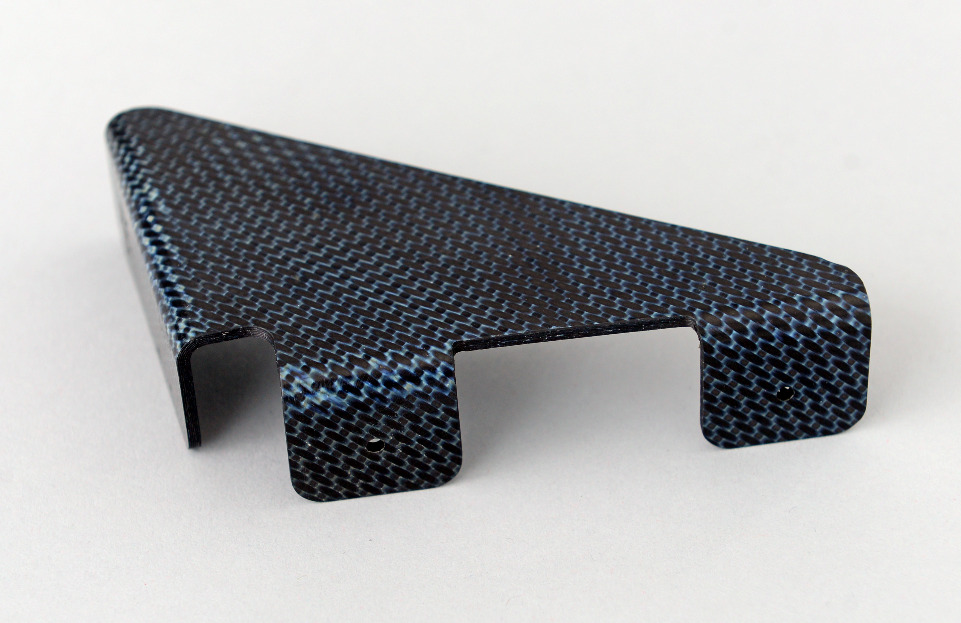 Freedom of creation, freedom of form: thermoplastic composites can adapt to hyper-customization.
Our thermoplastic composites guarantee impact-resistant parts that are recognized for their lightness, particularly in the fields of luggage and mobility.
Our stamping line is qualified by Airbus, specified AIPI (Airbus Process Instruction) and AIPS (Airbus Process Specification), for PEEK/C, PPS/C. To test them, we use ultrasonic testing equipment (NDT) also qualified by Airbus.
A RESEARCH AND DEVELOPMENT CENTER DEDICATED TO THERMOPLASTIC COMPOSITES:
A multidisciplinary team specialized in thermoplastic composites managed by Ophélie Westphal, PhD in composites, puts its expertise at your service. From the choice of material to the transformation of materials, innovating with custom production processes (including Netshape or the use of the Roctool® induction heating system), we accompany you in the development of your applications, even the most complex.
Our Research & Development teams will develop specific production processes for
you.
To learn more, please contact our experts!
Our thermoplastic composites are designed for long term use and are recyclable for a second life.
Our Research & Development teams also have a recognized know-how in the development and use of bio-composites such as Flaxcomp®.
Dare the biosourced composite 100% recyclable by combining flax fiber and a thermoplastic resin. We can help you with the manufacturing process that respects the fiber, thanks to our Flaxcomp® expertise.
The customer journey at DEMGY Atlantique
Customer journey
1. Industrial feasibility analysis: In response to your specifications and general requirements, we provide offers with the best technical and economic compromise.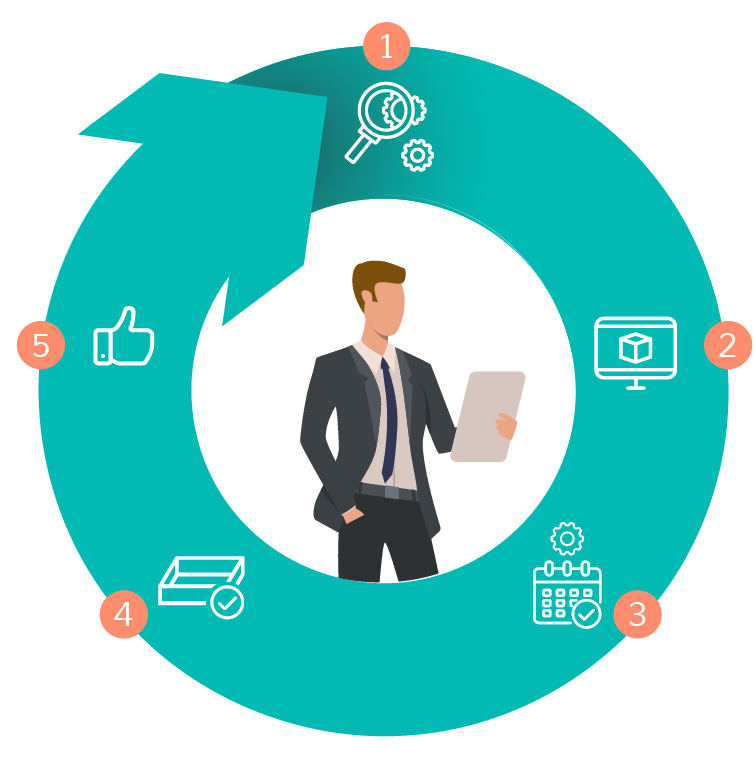 2. Development phase: this stage is certainly the most important for the proper deployment of the project. From co-design to production, our development teams put their know-how at your disposal to guarantee the perfect control of your requirements.
3. Supply chain management: now we have all the keys in hand to start your project in the best conditions. It is now time to coordinate the management of the entire supply chain for your mass production in France or abroad.
4. Production : With more than 70 years of know-how of mass production, our automated production lines ensure an uncompromising quality that is recognized by numerous certifications. (See the certifications mentioned in the last part of the document). In the same way, the digitalization of our workshops, thanks to our M.E.S (Manufacturing Execution System), brings a follow-up in real time of our productions.
Our integrated tooling workshop allows us to ensure full control of the quality of our productions.
5. Quality Management: This process is entirely digitalized, which allows us to access the history of the part throughout its life.
Do you know our fields of activity? Discover them!
The most demanding field of activity is the automotive industry. This is our trademark! We produce electronic key boxes, multimedia displays, control boxes (BCM for Body Control Module) for the automotive electronic equipment manufacturers, but also connectors for the carburation lines, decorative parts for the interior of the passenger compartment, engine cooling circuit manifolds, sealing parts for all the openings, engine supports, filtration parts or even engine boxes for the sunroofs.
DEMGY Atlantique also supplies the medical sector. We are certified ISO 13485, a guarantee of quality for your most demanding parts.
We also produce parts for the Sports and Leisure, Aeronautics, and Home Appliances sectors. Our versatility is our strength: whatever the nature of your project, we are able to carry it out, from design to delivery of the finished product!
Our teams will accompany you
A business manager and a project manager are dedicated to your projects; they coordinate the actions of the design office for the co-design of parts and the design of tools with CATIA V5 CAD software and Moldflow® rheology software. They ensure synergy with all the teams involved: quality, industrialization, testing and metrology.
At DEMGY Atlantique, all of our collaborators are real experts at your service. From the beginning to the end of your project, you are accompanied by motivated and passionate people who are entirely at your service to best meet your needs.
DEMGY Atlantique, certified quality for your projects
DEMGY Atlantique takes into account the strategic importance of Quality and gives itself the means to constantly improve it.
DEMGY Atlantique holds the IATF 16949 certification, a real quality assurance applied to the automotive fields. Issued by the International Automotive Task Force. From design to production, this certification is a guarantee of rigor and industrial performance.
DEMGY Atlantique also holds the EN 9100 certification, a globally recognized European standard that rewards the quality of products and services for the aerospace, defense and space sectors. It is awarded to companies that know how to anticipate and minimize risks, achieve levels of excellence in terms of speed and reliability, always with a view to continuous improvement.
As far as the medical sector is concerned, DEMGY Atlantique benefits from the ISO 13485 standard. This standard certifies proper quality management during the manufacturing of medical devices.
We are also committed to limiting our environmental impact as much as possible, in a sustainable development approach. Obtaining the ISO 14001 certification is the reflection of our environmental commitment for a more responsible industry.